Annual Economic Outlook, 2011
2011 is likely to be another year of gradual economic recovery in the developed western economies, constrained mainly by continued balance-sheet repair in the more overindebted economies such as the US, UK, Spain and Ireland. Wherever balance sheets are stressed and in need of repair, the tendency will be for growth and inflation to be lower than otherwise because debt repayment is an inherently deflationary process.
To repay a debt requires the debtor to write a cheque to his or her bank, while the bank cancels the loan. Unless the bank replaces that loan with new lending, both sides of banks' balance sheets decline. That is the process that is currently occurring across the US, the Eurozone and the UK. This slows growth and holds down inflation.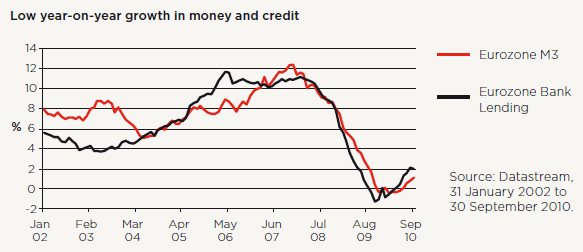 By contrast, in the emerging world there are only a few economies where such constraints apply (except perhaps some of the Eastern European economies), and consequently the emerging world is generally not subject to the same debt-derived growth constraints. As a result emerging economies have been able to recover more quickly from the global recession in 2009, and their recovery should continue at a healthy pace in 2011.
However, because western developed economies are mostly recovering only slowly, the emerging economies cannot expect the same rapid growth of exports that they enjoyed prior to the crisis. In consequence we expect a more subdued pace of real GDP growth in 2011 compared with 2007 at the peak of the credit bubble in the developed western economies.
While inflation fears may persist in 2010, the reality of low growth and debt repayment mean that in developed economies actual inflation will remain minimal in 2011.
However, as I forecast last year some emerging economies, notably China and India, have seen a rise in inflation in 2010, which will extend into 2011, due to continued rapid growth rates of money and credit.
In these economies much of 2011 will therefore be spent raising interest rates and implementing other policies to restrain demand and inflation. Nevertheless, I do not expect these policies of restraint to be so severe as to terminate their business cycle expansions.
To read the full Invesco 2011 Economic Outlook, please click here.