Where are the risks in financial markets today?
Given structural changes in the world economy and in business practice in the East, has the time finally come for investors to reconsider their traditionally cautious attitude to Asian markets?
Evaluating risk and reward is central to every investor's thoughts, whether that means a choice between asset classes, sectors or geographies. It is also true that the only constant in this process is change. Some things change very quickly, others evolve over time. The outlook for a company can turn on a single event: BP may still have a sound long-term future, but the 'lowprobability high-impact' event that unfolded in the Gulf of Mexico last year put even one of the strongest companies in the world under severe strain. What is certain is that a smaller company, without BP's balance sheet and asset strength, would have collapsed.
Geographically, things change somewhat more slowly, but the implications of an evolving world are no less powerful for that. The global economic crisis has arguably magnified the ways in which individual countries and economic blocs have changed, with Asia supplanting the West as the driving force behind world economic growth, and I believe that this has significant implications for investors.
Fig 1. Relative GDP growth rates (% year-on-year)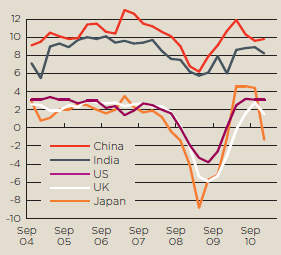 Source: Bloomberg LP, 30 September 2004 to 31 December 2010.
For many years now, investors have bought into the Asia and emerging markets story, accepting that the increased risks associated with these markets were justified by the potential returns. These economies were known for rapid growth, but also for political instability, a lack of strong corporate governance and for the volatility that often accompanies these issues. Ten years ago, investing in these markets may have been viewed as an aggressive, high-risk strategy but today Asian markets, in particular China, form a part of most asset allocations. However, I would argue that the fundamentals of the world today mean that exposure to Asia should not be an appendage to a portfolio, but should be an integral part of it that reflects today's investment landscape.
Growth
If you are looking for companies that can benefit from robust and sustainable economic growth, then the obvious direction to look is East. China and India are leading the ongoing expansion in Asia, at rates that the West cannot match.
Asian economies have been beneficiaries of recovery in the West and this has been evident in export data, which, even as the global recovery reaches a mid-cycle phase of lower growth, remain healthy. It is also increasingly recognised that the 'export West' model on its own is not sustainable – witness the imbalances that continue to build between China and the US.
"China and India are leading the ongoing expansion in Asia, at rates that the West cannot match."
Fig 2. Government debt as % of GDP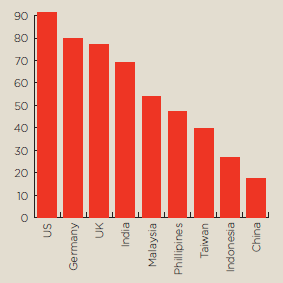 Source: International Monetary Fund, World Economic Outlook Database, April 2011.
Note: Figures for UK and US are IMF staff estimates.
Trade between Asian nations is strong and builds on the region's ability to eventually achieve an element of economic decoupling from the West. This much-discussed phenomenon is also supported by increasing levels of domestic demand. Wages continue to rise in China and living standards are improving. Urbanisation boosts consumer demand and it is a structural shift that continues across the region.
The dramatic rise in consumption is not just confined to food and staple items: luxury goods demand is growing strongly, evidenced by recent results from companies like Burberry and Louis Vuitton. These are sustainable trends and provide a clear contrast to the conditions being experienced in the West, where consumption is relatively weak, with debt reduction taking precedence (see figure 1).
Debt
Fiscal consolidation in the UK could well result in a long period of sub-trend growth. Eurozone economies are fighting the same battles, as governments seek to shrink bloated deficits. Despite its mounting debts, the US has yet to confront the painful truth that sooner or later those debts will need to be repaid. At the same time, Asian economies continue to grow. Governments are generally well financed – where it is required they can still provide support, and although inflation is rising, monetary policy in general remains accommodative (see figure 2).
Corporate Emergence
It can be argued that investing in Western companies with strong exposure to these markets offers an alternative way of playing the Asian theme. You can gain exposure to the region's growth through companies that in some cases offer better corporate governance and lower valuations. No doubt in some cases, there is merit in this approach, but it also has its limitations. If you want exposure to Asian consumers, why, for example, would you invest in a Western consumer goods company that is expanding in Asia but still generates the majority of its earnings in embattled Western economies? In some cases, it might have a lower valuation than an Asian peer, but where it exists I would argue that in general such a disparity would be there for a reason. That is not to imply that Asian equities as a whole are overvalued. The MSCI AC Asia Pacific ex Japan index is currently trading on a forward P/E of around 12 times. This is based on consensus expectations for profit growth of between 10% and 15% in 2011, as companies continue to benefit from increased levels of efficiency and further top line growth, albeit at a more moderate rate than in 2010.
Asian companies have also become increasingly adept at harnessing economic growth and translating it into profits (see figure 3).
Fig 3. Average annual real GDP growth and earnings growth in Asia
| | Real GDP growth | EPS growth |
| --- | --- | --- |
| 1994-2000 | 7.3% | 5.3% |
| 2001-2010 | 7.6% | 13.4% |
Source: UBS, annual data to end 2010.
The trend for those profits to be ploughed back into the business to pursue a strategy solely focused on growth is also changing as companies understand the importance of delivering returns to shareholders. Dividend payouts in Asia are rising, and payout ratios have increased by more than 10% over the past 10 years, underlining that corporate governance in Asia is continuing to improve.
Asian companies are also prominent on the world stage. Samsung Electronics overtook HP as the world's largest electronics group by sales in 2009. Chinese banks are among the very largest in the world and have access to markets that are unfathomable for most companies – Agricultural Bank of China has 350 million customers and 24,000 branches – compare that with a US population of 310 million.
Conclusion
Western and developed market companies still have a great deal to commend them and they remain among the world's highest-quality businesses. However, their years of largely unchallenged dominance are over. Asian companies are now among the world's largest and their recognition of shareholder interests is stronger than it has ever been. Dividend yields are rising, and reflect the underlying strength of these companies and their willingness to use their cashflows positively.
Western economies are constrained by debt, financial sectors that remain in need of balance sheet repair, and by ageing populations. Governments and households need to repay the debts built up over recent years and muted growth is the highest-probability outcome.
These issues do not apply to Asian economies. Governments are solvent, banks are well capitalised and households have high levels of savings, which are increasingly being deployed as domestic consumption as wages and prosperity levels rise.
So, the questions are...
1. Where are the risks in today's global economy?
2. How will the disparity in economic growth rates be reflected in five, or ten, years' time?
In my view, the risks for long-term investors in equity markets now lie as much in Western and developed markets as they do in Asia. It also looks like a fairly safe bet that in the near term, the contribution of Asian economies to global growth will continue to rise as rates of expansion comfortably outperform the West.
My conclusion is that investors should take some time to consider just where the real risks to growth, to corporate performance and to equity markets really are today. In my view, Asia's fundamental strengths underline the rationale for investors having exposure to this region.
Breaking away from the traditional biases towards home markets and developed economies may not be easy. However, if Asia is contributing the lion's share of world growth – which is being translated in profits – then I believe that there is every chance this will be reflected in growing amounts of longterm investment inflows into Asian markets.