Pictet - Bright outlook for timber
The stars appear to be aligning for investors in timber stocks. And thats primarily because the worlds main user of wood is rediscovering its appetite for lumber.
The US housing market, which accounts for up to 70 per cent of global wood sales by value, is at last recovering from one of its longest slumps on record.
Recent data from the US Commerce Department show that US housing starts were up 24 per cent year-on-year in January while property prices – as measured by the Case Shiller Index – have been on an upward trend since the beginning of 2012.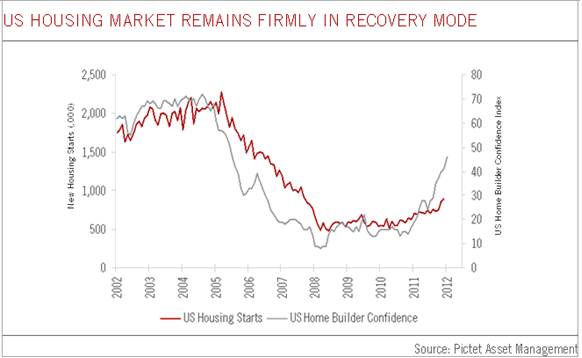 Wood prices have increased sharply as a result. Prices for structural timber, wood used in construction, have increased some 50 per cent in the last 12 months while prices for wood-based panels have doubled in that time, reaching levels not seen since the peak of the US housing boom in the mid 2000s.
Prices can be expected to rise further – boosting the earnings prospects for companies operating across the timber industry - as supply is unlikely to keep pace with the demand.
On the supply side, the bursting of the housing bubble inflicted long-lasting damage on the timber sector – many logging and sawmill operators went out of business, reducing the industry's production capacity.
Demand, meanwhile, is expected to remain robust: the number of housing starts over the whole of 2012 – some 780,000 – remains around half its normal annual level of 1.5 to 1.7 million. At the same time reconstruction activity in the areas damaged by Hurricane Sandy last year should also gather pace over the coming months, providing another potential boost for wood prices.
Such developments will not only benefit timber companies with direct exposure to the US housing market, but also forestry firms that own and manage timberlands in other parts of the world. Both of these groups of stocks feature as prominent investments in the Pictet-Timber fund.
But the US housing market is not the only positive.
Pulp and containerboard prices are also on the rise. Demand for pulp in China – the world's largest importer of such products - has been rising steadily since September while US containerboard prices have been heading higher. The fund has recently increased its exposure to containerboard and packaging firms, which now account for some 15 per cent of its total holdings.