Matthews Asia - Asia Insight
Matthews Asia is an independent investment management firm focused solely on investing in Asia.They specialize in actively managed, bottom-up portfolio management, with a focus on generating long-term investment performance.

Click to read Andy Rothman's assessment of China's 2016 Q3 data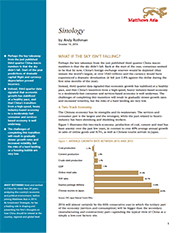 What if the sky isn't falling?
At the start of 2016, consensus seemed to be that by now China's foreign exchange reserves would be depleted and the currency would have experienced a dramatic devaluation. These predictions proved incorrect, instead China's Q3 data indicated that economic growth has stabilised at a good rate.
Andy Rothman's "Sinology" reveals, why he thinks, the risks of a hard landing are very low and China doesn't have to worry about a housing bubble. It also suggests that the services and consumption segment of the economy will be bigger than the manufacturing and construction segment.
Andy Rothman lived and worked in China for more than 20 years, analysing the country's economic and political environment, before joining Matthews Asia in 2014. As Investment Strategist, he has a leading role in shaping and presenting the firm's thoughts on how China should be viewed at the country, regional and global level.
Click to read Robert Horrocks' views on 'strategic' versus 'tactical' decisions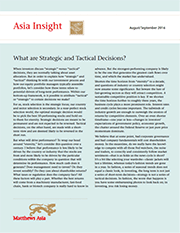 What are strategic and tactical decisions?
Matthews Asia Chief Investment Officer Robert Horrocks discusses the fundamentals behind 'Strategic versus Tactical Investment Decisions'. He draws attention to the fact that strategic decisions are meant to be permanent and are not expected to be reversed, whereas tactical decisions are made with a short-term view and deemed likely to be reversed in the short run.
Learn more about the Matthews Asia - Asia Dividend Fund
Learn more about the Matthews Asia - Pacific Tiger Fund
Learn more about the Matthews Asia - Japan Fund