Guinness Asset Management - 2017 Outlook for Energy
2016 was a year of rebalancing and recovery for energy markets. Guinness share some big picture thoughts on 2016 events and their outlook for 2017 and beyond.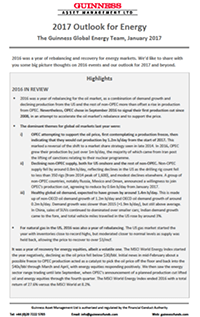 2016 was a year of rebalancing for the oil market, as a combination of demand growth and declining production from the US and the rest of non-OPEC more than offset a rise in production from OPEC. Nevertheless, OPEC chose in September 2016 to signal their first production cut since 2008, in an attempt to accelerate the oil markets rebalance and to support the price.


The outlook for world oil supply in 2017 starts with consideration of planned OPEC production cuts, designed to accelerate the rebalancing of the oil market that started in 2016. Non-OPEC (ex-US) supply will essentially stagnate, held back by another year of low capital spending, but supported by the fact that new production (that was sanctioned pre-2015 when oil was above $100/bl) is still coming on-line. We then have to watch US onshore supply closely, understanding that oil above $50/bbl is likely to produce a return to modest growth.
To read Guinness' detailed report click here.