Matthews Asia - Asia Insight
Matthews Asia is an independent investment management firm focused solely on investing in Asia. They specialise in actively managed, bottom-up portfolio management, with a focus on generating long-term investment performance.

Click to read Andy Rothman's deeper perspective on China and its economy.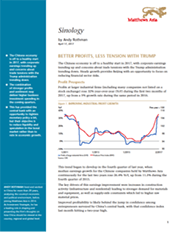 Better profits, less tension with Trump
The Chinese economy is off to a healthy start in 2017, with profits at larger industrial firms on the rise and concerns about trade tensions with the Trump administration easing off.
Improved profitability is likely behind the jump in confidence among entrepreneurs surveyed by China's central bank. The combination of stronger profits and sentiment may deliver higher business investment spending in the coming quarters.
Andy Rothman's "Sinology" explains, why China is no longer an export-led economy. Last year, domestic consumption accounted for two-thirds of China's economic growth. Moreover, the impact of any U.S. broad tariff on imports from China would be much lighter on the Chinese economy than most people expect. Only about 18% of China's exports go to the U.S., limiting the impact of any new barriers to the American market.
Andy Rothman lived and worked in China for more than 20 years, analysing the country's economic and political environment, before joining Matthews Asia in 2014. As Investment Strategist, he has a leading role in shaping and presenting the firm's thoughts on how China should be viewed at the country, regional and global level.
Click to read Colin Dishington's insight on Asian market trends.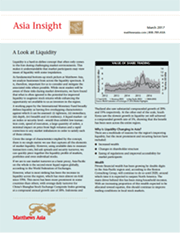 A look at Liquidity
Colin Dishington, Research Analyst for Matthews Asia, scans liquidity trends in the Asia. "What is most striking has been the increase in liquidity across Asia, which has risen almost six-fold since 1996. On the whole, the continued development of capital markets in Asia has opened up a greater pool of stock markets and individual companies from which we can conduct our bottom-up analysis."
There are a multitude of reasons for the region's improving liquidity, but the most prominent and recurring factors have included:
Increased wealth
Changes in shareholder structure
Easing of regulations and improved accessibility for market participants
Learn more about the Matthews Asia - Asia Dividend Fund
Learn more about the Matthews Asia - Pacific Tiger Fund
Learn more about the Matthews Asia - Japan Fund