Matthews Asia - Asia Insight
Matthews Asia is an independent investment management firm focused solely on investing in Asia. They specialise in actively managed, bottom-up portfolio management, with a focus on generating long-term investment performance.

Click to read Andy Rothman on China Surprises.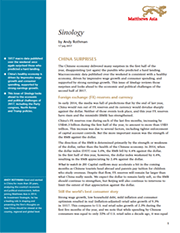 China Surprises
This issue of Sinology looks ahead to the economic and political challenges of H2-2017, including the Party congress, North Korea and Trump policies.
The Chinese economy delivered many surprises in the first half of the year, disappointing (yet again) the pundits who predicted a hard landing. China's healthy economy is driven by impressive wage growth and consumer spending, supported by strong earnings growth.
Andy Rothman's "Sinology" reveals, why China is still the world's best consumer story. Strong wage growth, low household debt, mild inflation and consumer optimism resulted in real (inflation-adjusted) retail sales growth of 9.3% in h1-2017. This compares to U.S. real retail sales growth of 2.3% during the first five months of the year.
Strong Earnings Growth Profits at larger industrial firms rose 22.7% year-over-year (YoY) during the first five months of the year, up from a 6.4% growth rate during the same period in 2016. New home sales rose 13.5% YoY (on a square meter basis) during H1 -2017.
Issues to watch in H2 -2017:
The 19th Congress of the Chinese Communist Party
North Korea
Trump Trade War
Andy Rothman lived and worked in China for more than 20 years, analysing the country's economic and political environment, before joining Matthews Asia in 2014. As Investment Strategist, he has a leading role in shaping and presenting the firm's thoughts on how China should be viewed at the country, regional and global level.
Click to read Sriyan Pietersz's insight on return of investors in Malaysia.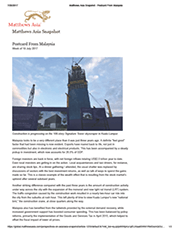 Postcard From Malaysia
Fuelled by renewed strength in exports, Malaysia is seeing foreign investors back in force, with strong foreign net inflows and even local investors starting to get in on the action.
Key observations:
Foreign investors are back in force, with net foreign inflows totaling US$2.5 billion year to date.
Another striking difference compared with the past three years is the amount of construction activity under way across the city.
Malaysia also has benefited from the tailwinds provided by the external demand recovery, while increased government support has boosted consumer spending.
Learn more about the Matthews Asia - Asia Dividend Fund
Learn more about the Matthews Asia - Pacific Tiger Fund
Learn more about the Matthews Asia - Japan Fund
Learn more about the Matthews Asia - India Fund