Matthews Asia Perspective
Matthews Asia is an independent investment management firm focused solely on investing in Asia. They specialise in actively managed, bottom-up portfolio management, with a focus on generating long-term investment performance.
Click to read Robert Horrocks' views on: Why invest in Asia in an age of confrontation?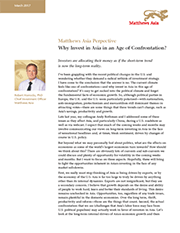 Why invest in Asia in an age of confrontation?
The current climate feels like one of confrontation—and why invest in Asia in this age of confrontation? It's easy to get sucked into the political climate and forget the fundamental facts of economic growth. So, although political parties in Europe, the U.K. and the U.S. seem particularly polarized—with nationalism, anti-immigration, protectionism and mercantilism still dominant themes in attracting votes—there are some things that these trends can't change, such as Asia's savings, productivity and growth.
For Asia is now showing little or no correlation with the U.S. Is this the way that international markets will evolve—with the U.S., Europe and Asia each increasingly dancing to their own tune? That may be expecting too much too quickly. But it is something
to monitor.
Click to read Kenichi Amaki's assessment: Is 2017 a game changer for Japanese equities.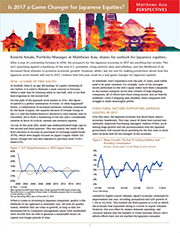 Is 2017 a game changer for Japanese equities?
After a year of contrasting fortunes in 2016, the prospects for the Japanese economy in 2017 are anything but certain. This isn't surprising against a backdrop of the new U.S. president, rising interest rates and inflation, and the likelihood of an increased fiscal stimulus to promote economic growth. 2017 could be a real game changer for Japanese equities.
Two areas that are likely to benefit this year are retail and financials. Japanese retail companies underperformed last year, owing to expectations of a return to deflation and price competition amongst retailers. Yet with a change in both currency and inflation expectations, those things might be viewed positively for the retail sector. At the same time, with Japanese wage growth accelerating again, there is room for more consumption this year. This should be good news for retailers. Meanwhile, yield curves have steepened globally, including in Japan, which should be positive for Japanese banks and life assurance companies.
Learn more about the Matthews Asia - Asia Dividend Fund
Learn more about the Matthews Asia - Pacific Tiger Fund
Learn more about the Matthews Asia - Japan Fund