Janus Henderson - Market GPS
With numerous uncertainties in the global economy, many market participants will be looking for meaningful signals about what's to come in 2019. Here, Janus Henderson Investment Managers highlight the key themes across the sectors.
Investment Outlooks 2019
Is Europe playing tortoise to the hare?
European equities manager John Bennett gives his thoughts on a potential change in market leadership, following a lengthy period of outperformance for smaller and mid-sized growth stocks. He also considers the prospects for better performance from good quality European names that have been unfairly hit by negative market sentiment. Read more...
Income key to UK commercial property returns
Ainslie McLennan, Co-Manager of the Janus Henderson UK Property PAIF, believes that income will remain a key driver of returns from UK commercial property in 2019 and beyond, while the most important opportunities to enhance value are likely to be based around asset management. Read more...
UK Absolute Return: using the long-short toolkit to take advantage of risk in 2019
Luke Newman, Portfolio Manager on the UK Absolute Return Team, explains how a long-short toolkit may provide the flexibility to take advantage of opportunities and risk in 2019. Read more...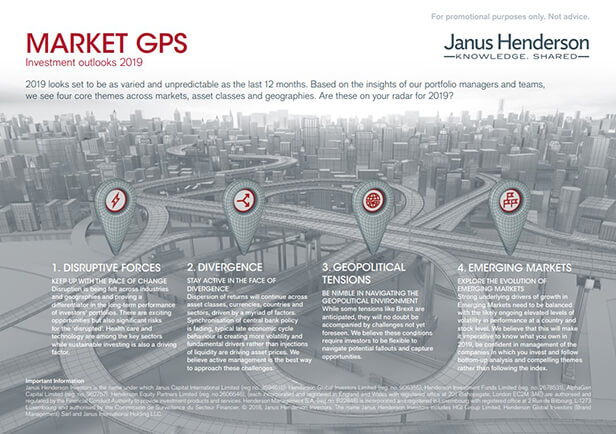 Click to view infographic in full.
Important Information:
Issued by Janus Henderson Investors. This document is intended solely for the use of professionals, defined as Eligible Counterparties or Professional Clients, and is not for general public distribution. Past performance is not a guide to future performance. The value of an investment and the income from it can fall as well as rise and you may not get back the amount originally invested. Tax assumptions and reliefs depend upon an investor's particular circumstances and may change if those circumstances or the law change.
If you invest through a third party provider you are advised to consult them directly as charges, performance and terms and conditions may differ materially. Nothing in this document is intended to or should be construed as advice. This document is not a recommendation to sell or purchase any investment. It does not form part of any contract for the sale or purchase of any investment. Any investment application will be made solely on the basis of the information contained in the Prospectus (including all relevant covering documents), which will contain investment restrictions. This document is intended as a summary only and potential investors must read the prospectus, and where relevant, the key investor information document before investing. We may record telephone calls for our mutual protection, to improve customer service and for regulatory record keeping purposes.