RL360 launches Oracle
RL360 has launched a new single premium offshore investment bond, Oracle.
Oracle is expected to be well received in the marketplace with both IFAs and investors thanks to its competitive charging structure, and low minimum premium of GBP20,000 or currency equivalent.
It has a wide ranging and flexible guided architecture fund range covering a broad choice of investment styles, asset classes, risk profiles, currency denominations and geographical sectors. There is no limit as to how many funds can be held under an Oracle policy, subject to minimum investment levels.
Oracle has a wide range of features including:
Available to invest in via seven currencies – GBP, USD, EUR, CHF, AUD, HKD, JPY
Direct investment – no mirror funds, or fund switch/dealing fees
Can be established on either a single life, or joint life last death basis, with a maximum of two individual applicants (individuals, companies or trustees) and up to six lives assured
Can be structured with up to 100 subpolicies to improve tax efficiency (subject to a minimum sub-policy value of USD800 or currency equivalent)
No policy fixed term; the policy continues until the death of the last life assured or is surrendered
An investment adviser can be appointed by the policyholder if necessary
Withdrawals available on a regular or oneoff basis
Additional top-ups can be made at any time
Annual loyalty bonus on all premiums after their sixth anniversary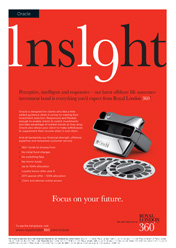 A dedicated product microsite has been designed to give IFAs easy access to Oracle literature and product information. A special advertising campaign is also being unveiled internationally.
Natalie Hall, Head of Marketing at RL360, commented: "I expect Oracle to be incredibly popular in all of the international markets in which RL360 operates due to its low minimum investment premium and broad guided architecture fund range.
"Oracle will meet a gap in the market for a lower premium portfolio bond, and will make this type of product more accessible to a wider range of investor with medium to long-term needs, as well as differing attitudes to risk.
"The Oracle fund range will prove very popular with investors thanks to how wide-ranging it is. There are more than 180 external funds from 35 industry-leading fund managers, covering 25 sectors and seven currencies which will help to mitigate currency risk. Oracle really has been designed with investor choice in mind, and I am confident this product delivers that."