Exciting changes to our PIMS product
RL360 has re-vamped its single premium international portfolio bond, PIMS (Personal Investment Management Service) with a range of exciting new features, enhancing its proposition to investors.
PIMS is aimed at high-net-worth individuals who are resident outside of the UK, USA, Hong Kong and Lebanon (1). With a minimum investment of £50,000, clients gain access to an almost unlimited array of investment options and a flexible charging structure which can be tailored to their individual needs. There are two variants – PIMS Focused and PIMS Flexible (2).
Key product enhancements include:
Discretionary management – clients can now appoint a Discretionary Fund Manager to administer their investments linked to their PIMS policy for their specific financial objectives. This is a direct response to demand from IFAs and their clients in international markets
The addition of a new, 10-year establishment charge complements the existing five-year structure, and offers a more cost-effective option to clients investing for the long-term
PIMS is now available in six currencies following the addition of Swiss Francs, Hong Kong Dollars and Japanese Yen. This allows clients increased flexibility, reflecting the product's international appeal, and helping to manage currency risk
Online servicing is now available for both advisers and their clients for the first time under this product, allowing for 24/7 policy valuations and a range of other policy information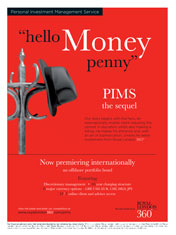 A movie-themed advertising campaign – PIMS: The Sequel – has been unveiled, featuring the slogan 'Hello Money Penny'. The sequel film theme reflects the fact RL360 is building on the considerable success of PIMS to date, by moving what is already a very successful product onto a new level.
A dedicated product microsite has been developed to provide IFAs with all of the information they require, as well as an interactive online game where they can test their 'Secret Agent' skills against each other!
Natalie Hall, Head of Marketing at RL360, commented: "PIMS proved to be a very popular product with advisers and their clients throughout 2010 due to its investment flexibility, and I believe the new enhancements we have made will only heighten its popularity in 2011 and beyond.
"More and more investors are now choosing to appoint a Discretionary Manager to oversee their investment and so I expect this to be very well received with IFAs. The option of a new ten-year charging structure is very competitive and I expect investors will really welcome this, certainly when using PIMS for retirement planning.
"I am confident that PIMS now offers one of the broadest-possible ranges of benefits to investors, particularly with its increased list of acceptable currencies to mitigate risk, and will continue to perform very well in the market place throughout the coming year."
The story continues at www.rl360.com/pims
Additional information
Other restrictions may apply
PIMS Focused gives investors access to approximately 1,300 investment funds from a defined menu at a lesser cost than PIMS Flexible. PIMS Flexible provides wider access to any investment that RL360 is prepared to hold.