Matthews Asia - Asia Insight
We are pleased to introduce Matthews Asia funds to RL360 Quantum, Oracle, Paragon and LifePlan.
Click to read
Andy Rothman's views on today's China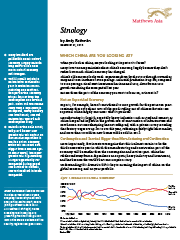 Which China are you looking at?
Few investors recognize that this is almost certain to be the third consecutive year in which the manufacturing and construction part of China's economy will be smaller than the consumption and services part.
What else have we learned about China in 2015? Andy Rothman's "Synology" explains.
Andy Rothman lived and worked in China for more than 20 years, analysing the country's economic and political environment, before joining Matthews Asia in 2014. As Investment Strategist, he has a leading role in shaping and presenting the firm's thoughts on how China should be viewed at the country, regional and global level.
Click to read
Robert Horrocks' views on Asia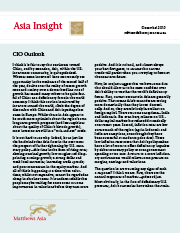 Chief Investment Officer Outlook
Matthews Asia Chief Investment Officer Robert Horrocks analyzes the year's investment headwinds and opportunities. He highlights aspects of the current environment that may lend confidence in Asia's ability to weather global deflationary forces—considering inflation rates, policy responses, financial system reforms and valuations for the companies that will support real economic growth trends in Asia.
Learn more about the Matthews Asia - Asia Dividend Fund

Learn more about the Matthews Asia - Pacific Tiger Fund

Learn more about the Matthews Asia - Japan Fund