Janus Henderson - Global Snapshot October 2018
The Janus Henderson Global Snapshot explores the themes driving markets, the trends to watch, market returns and metrics, and the Multi-Asset Team's outlook for regions and sectors at quarter end.
Profits at risk from slower economic growth and rising wage pressures:
Market drivers - highlights
Trends to watch
Key market data
Asset allocation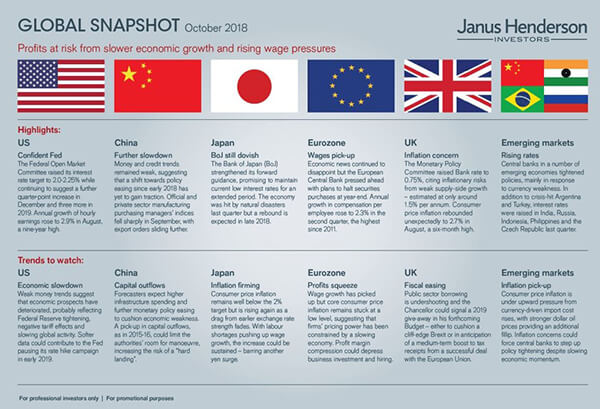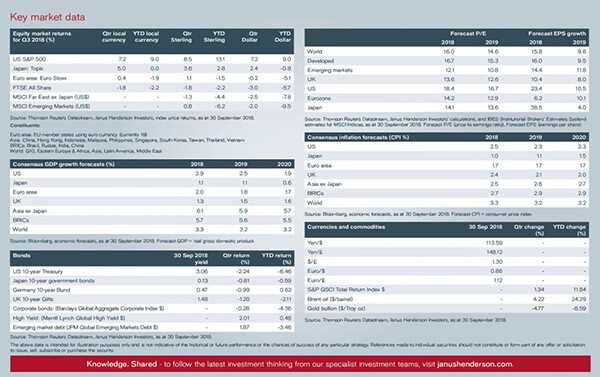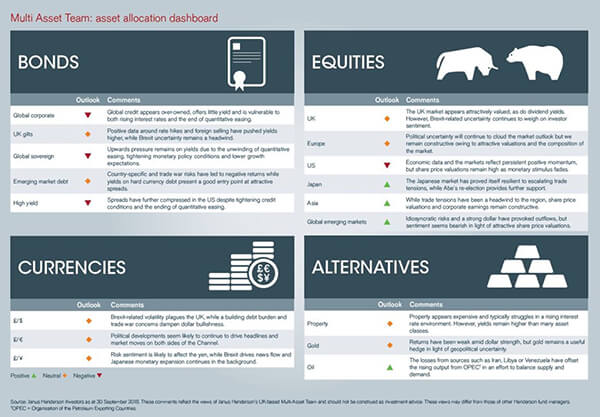 Important Information:
Issued by Janus Henderson Investors. This document is intended solely for the use of professionals, defined as Eligible Counterparties or Professional Clients, and is not for general public distribution. Past performance is not a guide to future performance. The value of an investment and the income from it can fall as well as rise and you may not get back the amount originally invested. Tax assumptions and reliefs depend upon an investor's particular circumstances and may change if those circumstances or the law change. If you invest through a third party provider you are advised to consult them directly as charges, performance and terms and conditions may differ materially. Nothing in this document is intended to or should be construed as advice. This document is not a recommendation to sell or purchase any investment. It does not form part of any contract for the sale or purchase of any investment. Any investment application will be made solely on the basis of the information contained in the Prospectus (including all relevant covering documents), which will contain investment restrictions. This document is intended as a summary only and potential investors must read the prospectus, and where relevant, the key investor information document before investing. We may record telephone calls for our mutual protection, to improve customer service and for regulatory record keeping purposes.