Sarasin - The Connected Farm
Sarasin Deputy Fund Manager Jeneiv Shah explores the innovation in this new area of agriculture and how it affects investment opportunities in the sector.
The Connected farm; how AgTech is changing the future of agriculture

Since the beginning of the 20th century, farmers have embraced a variety of methods to improve yields and raise productivity. These have ranged from using tractors and implements to displace labour, to the 'Green Revolution' where new seed traits have improved yields and farmers have increased fertiliser and pesticide application on row crops.
Rising global incomes and urbanisation mean the 'food economy' is on a structural upward growth trajectory and thus at Sarasin & Partners we believe it is attractive to invest in a food & agriculture fund. However, the human species now faces a major new challenge: feeding an additional 67 million mouths per annum to 2050, in a sustainable way. Food production, according to UN estimates, consequently needs to increase by over 70%. Environmental issues such as soil quality, climate change, land and water scarcity, and fertiliser run-off (where fertiliser is washed into rivers) make this objective tougher to fulfil.
We are reaching a limit to what can be achieved using existing non-technological methods. Most industry observers acknowledge considerable inefficiency in the production of food. There are several ways to improve efficiency across the food chain, but at Sarasin & Partners we believe technology is likely to be the most disruptive and powerful route to greater agricultural output from the existing land.
A confluence of technologies applied to agriculture
This new set of activities has the overarching name 'AgTech' (agricultural technology) and encompasses a wide variety of innovations. AgTech is the interplay between farm inputs, life sciences, robotics, and data analytics. The idea behind bringing these areas together began in Silicon Valley several years ago, when the productivity potential for agriculture became apparent.
Agricultural output is influenced by an inordinate number of variables. Controllable ones, such as the amount of seed planted or the volume of pesticide used, but also uncontrollable ones such as weather conditions and equipment reliability.
In a digitalised world with the ability to measure and capture data on a wide range of these variables, the modern farmer has a new set of technological tools at their disposal.
Soil datapoints on metrics such as moisture or temperature are routinely collected via in-ground sensors. In recent years we have seen a rise in the use of sensors attached to drones to measure weather, understand field soil patterns better, or monitor crop disease. Sensors can also be attached to equipment such as tractors and sprayers to collect yet more data on the performance of the machines, and thereby allow farm managers to undertake timely maintenance.
In the past ten years sensors have become cheaper, more precise, and reliable. Data gathering, therefore, is already becoming prevalent and ubiquitous. Increasingly farmers want connectivity between sensors, and a holistic "Internet of Things" approach towards bundling and interpreting all this data. This is where we have started to see a whole new ecosystem of farm management apps and tools developed. For example, Farmers Business Network (FBN), a privately owned startup which has been partly funded by Google Ventures, is well known within AgTech as a leading independent data analytics platform. It is a peer-to-peer subscription service that allows agronomists to anonymously share information on row-crop metrics such as yield, inputs such as fertiliser usage, and the efficacy of specific seeds. This helps farmers to benchmark performance of certain farming techniques or products, and then identify discounted deals in the marketplace via bulk-buying in conjunction with other FBN members. Although FBN is still at an early-venture stage, it has already signed up more than 5,000 farms across North America collectively managing over 25 million acres. Annual membership costs only $700 thereby making it affordable for farms of all sizes.
The notion of a "connected farm" helping farmers manage inputs, labour, and equipment more efficiently is therefore becoming a reality at the large scale intensive farms in North America.
AgTech is a core theme at the heart of Sarasin's Food & Agriculture Opportunities fund
The production of food needs to increase dramatically with an ever-growing number of constraints placed on the average farmer. Chart 1 illustrates how early-stage investment capital from private equity and venture funds has begun to accelerate. We predict this will continue to grow in size, and our interactions with large corporates involved in all parts of the agriculture value chain suggests they also see the opportunity for innovation and disruption.
As with many advances made in the past, there will be some companies facing headwinds, for example, a sustained reduction in the application of farm inputs such as pesticide or fertiliser is a key risk to agricultural chemical companies. But for many other companies across the food chain, new technology offers huge opportunities. Our job as long-term stewards of our clients' funds is to navigate our way through the technological changes underway, ensuring an appropriate portfolio response which takes advantage of the AgTech theme.
Chart 1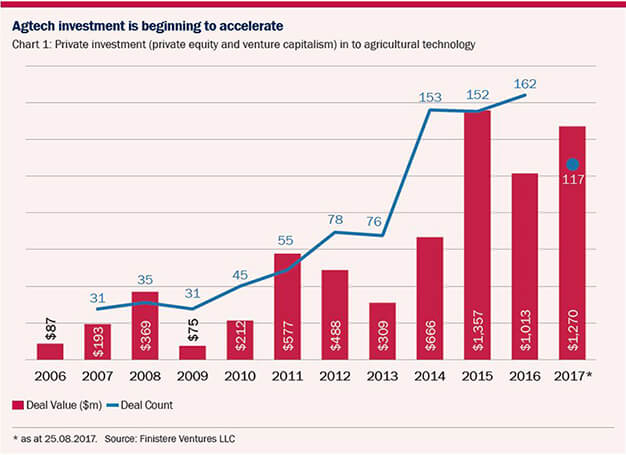 Please note that these are the views of Jeneiv Shah for Sarasin & Partners and should not be interpreted as the views of RL360.