J.P. Morgan Asset Management - Climate adaptation
How private investors can support adaptation in nature and ecosystems

Investors need to understand the scale and scope of nature's economic contribution, the wide-ranging nature dependencies of key industries, and the various ways in which nature-related adaptation can be effective.
In our latest paper on climate adaptation, we look at various industries and their dependency on nature.

Content:
Why is nature important for climate adaptation and how should we think about it?
What risks does nature face from climate change?
What are the consequences of not dealing with these risks?
Investable solutions for climate adaptation
How can investors access nature adaptation solutions?
Conclusion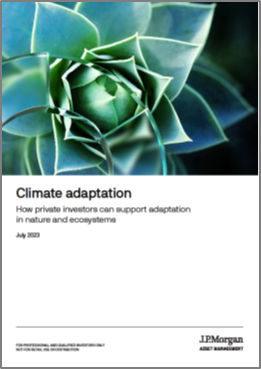 In brief:
Nature is vital to our economy and society, both in terms of the natural resources that underpin economic productivity, and the regulating role of ecosystem services in mitigating and helping us adapt to climate change.
Yet nature faces a multitude of threats, with climate change itself being one of the most important. These threats are compromising nature's ability to sustain the natural capital and ecosystem services on which our economy relies, putting investments at risk as a result.
Helping nature adapt to these threats is therefore crucial. We look at investable climate adaptation solutions across natural resource-dependent industries, focusing on agriculture, food and beverages, forestry, pharmaceuticals and tourism, as well as exploring solutions that can help nature adapt in the face of rising global temperatures.
The foundational role of nature in sustaining the global economy is gaining increasing recognition, as are the systemic challenges posed by climate change. However, there is still insufficient discussion of the measures that must be taken to facilitate the adaptation of natural systems, and the industries that depend on them, to climate change.
Investors need to understand the scale and scope of nature's economic contribution, the wide-ranging nature dependencies of key industries, and the various ways in which nature-related adaptation can be effective. They should also be aware of the significant nature financing gap, particularly in relation to adaptation, and the emerging mechanisms for overcoming barriers to investment in nature adaptation.
The increasing extent of solutions to help preserve the adaptive capacity of natural capital and ecosystem services means investors can direct capital to benefit from opportunities across sectors and regions, while helping to enable essential adaptation for and by nature in the process.
Important Information:
This document is a general communication being provided for informational purposes only. It is educational in nature and not designed to be taken as advice or a recommendation for any specific investment product, strategy, plan feature or other purpose in any jurisdiction, nor is it a commitment from J.P. Morgan Asset Management or any of its subsidiaries to participate in any of the transactions mentioned herein. Any examples used are generic, hypothetical and for illustration purposes only. This material does not contain sufficient information to support an investment decision and it should not be relied upon by you in evaluating the merits of investing in any securities or products. In addition, users should make an independent assessment of the legal, regulatory, tax, credit and accounting implications and determine, together with their own professional advisers, if any investment mentioned herein is believed to be suitable to their personal goals. Investors should ensure that they obtain all available relevant information before making any investment. Any forecasts, figures, opinions or investment techniques and strategies set out are for information purposes only, based on certain assumptions and current market conditions and are subject to change without prior notice. All information presented herein is considered to be accurate at the time of production, but no warranty of accuracy is given and no liability in respect of any error or omission is accepted. It should be noted that investment involves risks, the value of investments and the income from them may fluctuate in accordance with market conditions and taxation agreements and investors may not get back the full amount invested. Both past performance and yields are not reliable indicators of current and future results.