Fund research
We have created individual product fund centres on our Adviser website to help you perform fund research online. And with data supplied by Morningstar® there are some great tools to help you investigate funds for your clients.
Fund research
Section navigation
Fund centres
Need to do some homework on a fund or series of funds for your client's plan? Looking for an easy to use, time saving solution that'll make you look cool in the classroom? Then workbooks at the ready and take note. Developed alongside one of the leading investment data suppliers, Morningstar, the fund centres allow you to quickly browse through the available fund ranges, download Factsheets and Key Investor Information Documents (KIIDs), see performance information and create charts. Using them is easy. Simply click onto the fund centre tab for the relevant product, and the funds available will appear in the lower part of the screen. You then have the following key functions:
Search
Quickly narrow your focus for the funds you want with a range of data filters. Find:
one specific fund using ISIN or name, or
multiple funds by manager, sector, currency, Morningstar rating or KIID risk rating
Alternatively, don't use any filtering to view all funds available.
Analyse
Open your mind and expand your knowledge with:
latest pricing data
cumulative, annualised and discrete performance which is downloadable in bulletin format
fund rankings; from Morningstar Star ratings and Analyst ratings to KIID risk ratings
produce a RL360 branded factsheet with detailed performance results and relevant charging information
access external fund manager factsheets, KIIDs and prospectus documents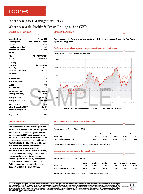 Explore
Examine funds:
with the Fund Compare option where you can look at the structure of up to 5 funds side by side
using the X-Ray option, create a portfolio of up to 10 funds to inspect overall stock holdings, sector split, holdings overlap, performance and more.
There's a multitude of information to help you with indepth analysis of 1 or more funds.
Report
Generate performance charts:
show how a fund has performed against its Morningstar category, or one of your choice
plot over standard time periods or a specific time period of your choice
compare several funds against each other
rebase your plotted funds into one of 7 currency options
track historic prices and download them into excel
print a chart for presentation to a client or for file keeping