Fast Running Blog – October 2020
When 2020 sucks the life out of you…

In this post, RL360 sponsored race walker, Erika Kelly, provides an update of her training in 2020. She talks about the disruption she faced this year; both due to lockdown restrictions and while she recovered from a serious injury.

I know I won't be alone in trying to comprehend the confusion, disruption and disarray that 2020 has brought. For the first time in my short career as an athlete so far, I've struggled to find enjoyment and solace in the sport I've loved so much over the last few years.
The year couldn't have gotten off to a better start; travelling to Murcia in January for a training camp with the Welsh Athletics Endurance team, alongside my best friend and partner, Ollie. It always feels incredible to share these experiences together, including comprehending the sacrifices that come with training as full-time athletes. We had a shared sense that this camp was setting us up for a bright year ahead… but then a global pandemic hit.
Not only did Covid-19 rear its ugly head, but on returning to the Isle of Man, I found myself unable to fully extend one of my legs - which is a requisite for legal race walking technique. After weeks of confusion and conservative treatment with IOM Sport, I still wasn't seeing any improvement, but neither was I displaying any distinctive symptoms and I didn't appear to be experiencing much pain. We had to look to an MRI scan for answers and, just like that, it felt like my world had ended. I had a lateral meniscus tear which would require surgery to heal and I was diagnosed with Hoffa's syndrome. And so it was that just 3 days after my scan, I found myself lying in the operating theatre.
It's been a long 6 months of rehabbing and added to this, the recovery process was far from straightforward (such is life). It was one of the most disheartening experiences of my life and every time there was a glimmer of hope, yet another problem would emerge – almost like every step forwards was being followed by 3 steps back. And maybe this is where it all started – where I began to succumb to my situation, lose faith and ultimately self-belief and confidence.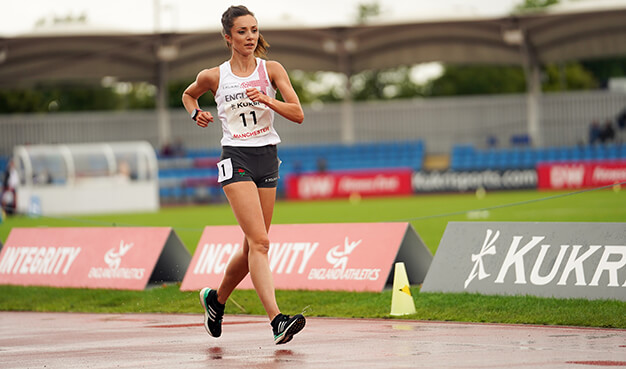 In April however, I was over the moon to be selected to represent England in Podebrady (over 20km), but as quickly as I had accepted my invitation, the event was postponed. This year has seen so many major races postponed or cancelled - including the World Athletics Race Walking Team Championships in Minsk – which has contributed, at least in part, to a lull in my desire and motivation to race. Fortunately, I have benefitted from some local island-based competitions, where I've raced against the clock and received feedback from judges. It's been a complete mixed bag of experiences – sub-par performances, lack of enjoyment, and my first ever 'Did not finish' (I was so gutted I cried for days), but we ended on a high with a lovely personal best and a smile on my face!
Whilst on-island races are a brilliant opportunity when the world around you is shutting down, it's still not quite the same as being thrown into a highly competitive environment – one where you're surrounded by like-minded athletes, and pushing yourself to your limits. Moreover, living on the Isle of Man has come with its own set of challenges this year, particularly when I had to turn down the opportunity to race in the 2020 British Championships in Manchester. It was a difficult decision, but unfortunately I wouldn't have been able to complete the mandatory 2 week self-isolation period upon my return.
In some ways, there is a small silver lining in all this for me - in that my injury and having to rehab for 50% of the year has aligned with goals, races and events, very sadly, being written off or postponed to later dates. If 2020 has taught me anything, it's that the most challenging of situations, coupled with your weakest moments, can give rise to the opportunities that allow you to truly comprehend just how strong you can be. Keep showing up, keep dreaming, keep believing.