Rushen United Junior Football Club welcome new sponsorship with IFGL
International Financial Group Limited (IFGL) has joined forces with Rushen United Football Club to sponsor the Junior Academy. In total IFGL has donated £2,750 to the Club which covers costs over 3 seasons.
IFGL is the parent company of RL360, Friends Provident International and Ardan International. They employ more than 500 people on island, with offices in Douglas and Castletown, and are supported by teams in 7 countries across the Far East, Middle East, Africa and Latin America.
Rushen United Football Club was first founded a century ago in 1910 and has been based in the south of the Island ever since. Today it provides coaching for age groups from Under 6s all the way to the senior level.
The sponsorship deal was arranged when Nathan Forfar, who is a member of the Junior Academy coaching team, contacted IFGL to ask for support. Nathan also works for IFGL as a compliance specialist.
Commenting on the support, Nathan said: 'Rushen United's ambition is to develop the youth in the community and guide them on an enjoyable pathway to senior football, whatever the level. To help the club achieve this, we are lucky enough to have a fantastic group of coaches and volunteers, all of whom foster a positive and inclusive culture. We're absolutely delighted that IFGL has supported our aspirations and have generously sponsored the Junior Academy. We'd like to share our appreciation with everyone and say a massive thank you to IFGL.'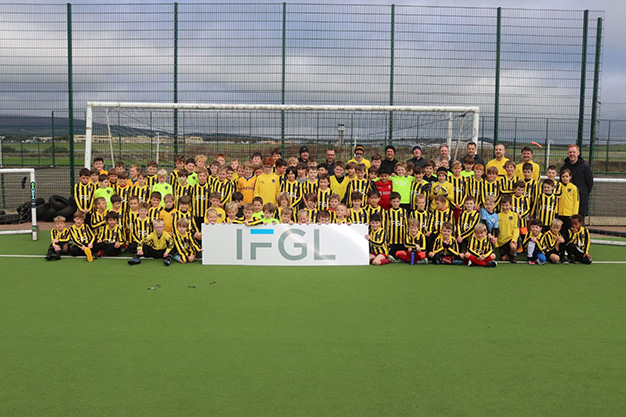 (Photo of the team in their new kit, taken by Paul Hatton, who visited the training ground at King William's College on Saturday morning.)
Nigel Danzelman, Marketing Services and Communications Manager at IFGL, also commented: 'In sponsoring the Junior Academy at Rushen Football Club, we're looking forward to supporting the development of local sporting talent. We're excited to see how our support will benefit the young players and enhance sporting opportunities on Island.'