Peter Cope's 2020 sailing report
RL360-sponsored sailor, Peter Cope, provides an update on his sailing experience this year. In this post he talks about the disruption COVID-19 brought to the sailing season, competing locally, and his exciting plans for the future.
Pre-season
With the kind help of RL360, my parents were able to purchase a RS Aero dinghy for me at the end of last year. My first outings in the new boat were on the Injebreck Reservoir in the Baldwin valley where the winter racing series are held. Most top Manx sailors compete there every Sunday and I had a good season in my new boat, winning quite a few races and getting to spend lots of time on the water before the Covid-19 restrictions came into effect.
I won the November, January, February and March series and the Winter Series overall, which I was very pleased with.
COVID-19
All sailing came to a stop when Covid-19 emerged, and so I turned my attention to improving my fitness. I did lots of running and cycling and some home schooling as well, but I didn't do much more than that.
After a while, when the number of cases started to fall, sailing was allowed to start again - and as you can imagine I was straight back out onto the water with the other Manx Aero sailors. Thanks to Ben, Patrick and Ffinlo who went out sailing with me - we had a good time practicing our skills, although racing was still not allowed.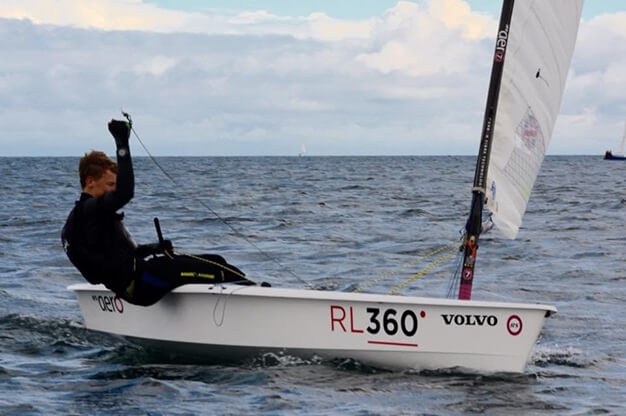 Racing
Club racing started again on 15 June, which was coincidentally my birthday - a great birthday present! Every Thursday and Sunday there was club racing at the IOM Yacht Club in Port St Mary Bay with nearly 30 boats turning up for every race.
The first big event of the season was the Manx Sailing and Cruising Club in Ramsey Bay – it was fantastic to do a regatta again and with 26 boats entered was a superb event. I was still a bit rusty and needed a bit of work to try and improve.
The next event was the IOMYC regatta with 25 entrants. There was a moderate wind on the first day and strong winds on the second. I managed to put in a strong performance to finish second overall and first junior.
After the IOMYC regatta there was a month break until the next regatta in August, when we raced at Laxey Sailing Club. The conditions were challenging and with constantly changing weather I chose to take the 7m² sail as opposed to the 5m² sail that I normally use. This was to see how I coped with the larger sail - which I will ultimately move up to as I grow. It was very windy and I was a bit overpowered meaning that I couldn't quite produce my best, but it was really good fun.
The next event was the IOM Youth Championships with more than 20 under 19 year olds competing, and this was held at the IOMYC, Port St Mary. The first day was really windy and I worked hard to claim 2 race wins. On the second day it was the opposite with really light winds so everyone who struggled the day before in the strong winds had more of a chance. The results were very close and I won the regatta by one point!
I was absolutely delighted to win the IOM Youth Championships at my home club.
The final major event of the season was the IOM Dinghy Championships held in Ramsey again. The forecast was meant to be windy on the first day and light on the second. With this in mind, I elected to use the 7m² sail to gain more experience with it in the stronger winds and also to gain extra speed with it in the lighter winds. Unfortunately the forecast proved quite wrong and with strong winds on both days I was overpowered again. After 2 windy days and lots of hard work I finished 7th out of 25 which was encouraging considering I was definitely overpowered throughout.
Unfortunately I wasn't able to go to RS Aero National Championship and other big events in the UK this season due to border restrictions, but I will hopefully be able to race in the bigger events next year.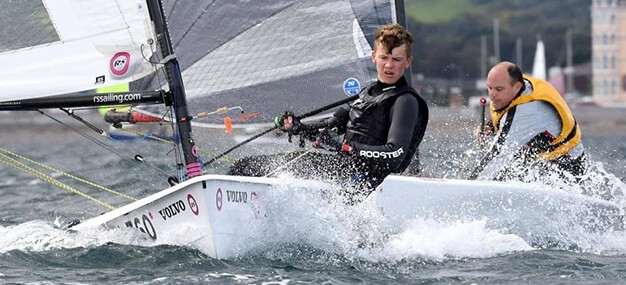 Training
This year was the first ever year that there was a Manx RS Aero team and, with four full weekends of training completed, it was a great opportunity to help me improve. I want to give a special thanks to the manager Ffinlo for coaching and organizing the sessions, as without him it would never have happened.
I spent lots of time this summer working at the local training centres; I did a week at the IOMYC teaching sailing and some more time at 7th Wave teaching there. It was really good fun to teach and can't wait to do it again.
This year also I attended the Sports Aid Academy as well, to improve other aspects of my sporting capabilities. Sports Aid is really good because it allows me to improve myself by looking at other areas of sport, such as nutrition, psychology, etc.
Next season
I'm really looking forward to sailing on Injebreck, which will be starting again in November this year. I'm going to train hard this winter to hit the ground running next season - when we will hopefully be able to compete off Island again.
There is an active and growing RS Aero circuit in the UK and worldwide and I am looking forward to going to the UK National Championships and other UK events, and maybe even the World Championships in Lake Garda, Italy. This class of boat is tipped to take over from the Laser for the Olympic Games and also the Island Games.
I would like to thank RL360 for their generous sponsorship which has allowed me to compete well in my new boat and I look forward to doing even better on and off the Island next year.