Executing the plan
I was one of the last Isle of Man athletes to arrive at the Commonwealth Games Village on the Queensland Gold Coast and was met at the airport by my team manager. Village security was as expected with all baggage scanned, although we did get held up chatting to the onsite police officers who were very interested in the Island and why our flag was the shape it was. A quick tour of the village facilities, team office and accommodation, a bite to eat and it was early to bed after 30 odd hours of travel. I had arrived when I did to leave me with 10 days pre-comp to train on the ranges and adjust to the 9 hour time difference.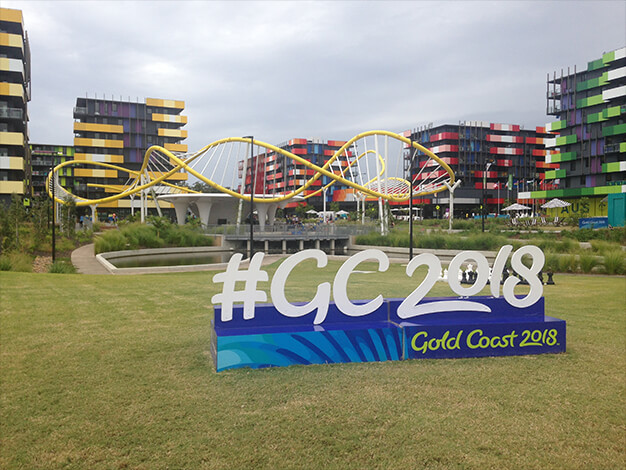 There were 8 days of training available and I was straight into it the following day. A new range always takes a little time to adjust to and being able to spot differences and adapt to them is a key part of preparation. This was a totally new range and very different to the normal set up I have been used to, not from a lay out, trap or target point of view but that there was nearly a 2m drop directly in front of the trap house which rose slightly over the 75m directly in front. A huge green fence had been erected in front to provide a consistent background which was very impressive and suited me straight away as all of my really big scores had been produced on consistent green back grounds - must be something to do with my eyes I guess? The drop was a different matter however as the target perspective was altered due to looking further away, into the drop, than normal which gave the appearance of the target appearing faster and sooner and what seemed like an age for it to arrive at the point I wanted to shoot it at. I tried all sorts of changes to try and find the best hold position/height for the gun - too low and the target zipped past my gun too early and too high was testing my patience too much as the second target was further away than I wanted.
Also around 1pm the humidity spiked and the targets flew lower on a flatter trajectory and slightly slower so needed a further adjustment during competition. This was spotted by my coach Ed Barker who did a great job ensuring the clay team and I had all we needed on range and were well prepared.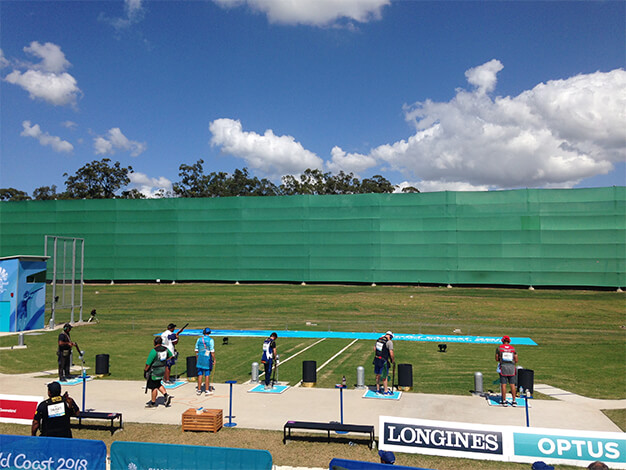 On 4th April the Opening Ceremony took place. It is always a great feeling to be officially welcomed as the Isle of Man Team due to compete at the games. After my 4th experience it is still a special moment to wear our flag on the team kit and see the Manx flag flying at the head of our group. The stadium was full to capacity at 35,000 but a long way off the MCG in Melbourne 2006 when there were more people present than there are living in the whole of the Isle of Man!! I only took part in the walk around as I still had sleep to catch up on and watched some of the ceremony back in our apartment.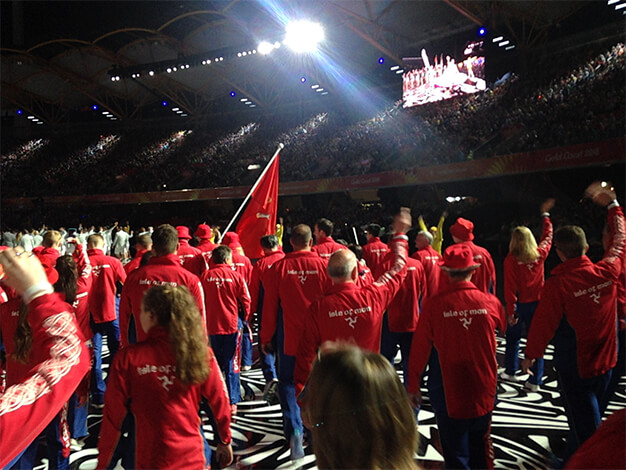 The shooting ranges were about an hour away from the village on a bus, depending on traffic. Back in 2017 the clay shooters had decided to book some accommodation closer to our venue in the few days leading up to our competitions to save catching the 6.30am bus potentially 3 days on the trot. I felt this would be a benefit to allow extra rest and recovery time. It proved to have another unforeseen benefit, however, of allowing me to get out of the village and the escalating pressure as the games progressed. The IOM Team had been having a great games with lots of personal bests and Island records been broken with a few people making semi-finals and finals. One of the Island's best swimmers at the games had a lot of hopes pinned on her due to being one of the best in her field but when she finished 4th I suddenly felt a huge amount of expectation and almost responsibility. I was hoping the ice might have been broken by April 11th when I competed but after such a close 4th place finish in the swimming on April 9th it hit home that the team might be going home without any medals. I felt a lot of personal expectation and pressure as I have a lot of experience and have produced medals at an International level in the past but being able to recognise that feeling when it arrived allowed me to try and manage it. There were a few tough conversations with the coach Ed, who soon put things back in perspective - nothing had changed from our plan, I still had that in place and just needed to stick to it. The few days away from the village in the apartments we had booked was a great get away and a free day while the ranges were checked by officials allowed us to have some time exploring the local area. A visit up a local view point and a trip to a national park were a welcome distraction.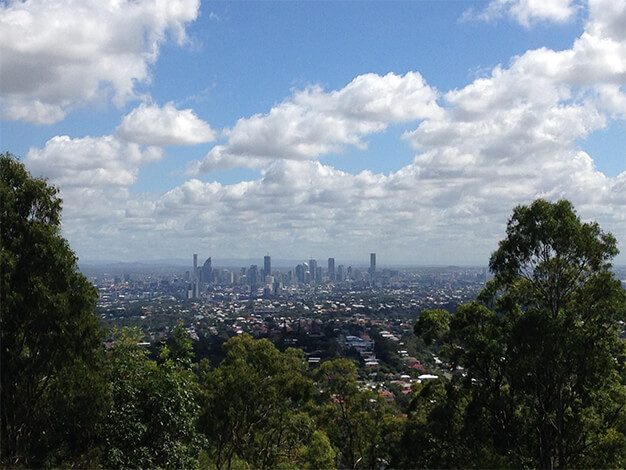 Official training went well the day before comp when I could focus on certain elements of my routine and get really confident on weaker areas that had been causing concern. The morning of competition we arrived on the range with just over an hour to spare, which is normal for me. I spend this time looking at the conditions and deciding on glasses and also looking for anything which might be different. Plus reassuring myself that all the nerves are only normal and that is all part of the competition, this is why I do what I do. I had also been having trouble with stiff hips and shoulders following the travel so spent some time with the physio loosening things off.
My first round was a Mike Tyson punch! He once said everyone has a plan when they step in the ring but it soon goes out the window once you get punched in the face! I shot a 25/30 which at any other major international would have been the end of any hopes of making a place in the top 6 final. However, although I never like to look at score boards and see what others are doing I did have a glance around and saw a lot of missed targets being registered across the field. I had overheard a coach talking earlier in the week who said if you can shoot consistently on this range you would be in with a chance - I took note and composed myself during the hour break to refocus and try to get back on track. I managed to post 3 rounds of 26/30 and was apparently lying in 7th place before my final round. I only knew this after shooting a perfect 30/30 to qualify 3rd for the final.
The 80 target final itself is all a bit of a blur and felt very rushed. Due to the nature of the drop out format (lowest score at certain points exits) and the stop start commentary it was difficult to stay focused all of the time. I remember trying to just repeat my process over and over and not to let my mind wander too far away from the job in hand. I could have very easily finished 4th also due to a tied score with one of the Indian shooters but my higher score in qualification rewarded me by keeping me in and was then followed by overtaking the other Indian in the next 10 targets to guarantee a silver medal at least. David from Scotland and I shot another 20 targets to determine the final standings but I stayed in second after a great performance from the Scot. Once we had finished I was absolutely thrilled to have a Silver medal for myself and the Isle of Man. It was also a big surprise to see all of the Manx supporters and flags flying in the crowd, there was some great support there from the other side of the world. It was an even bigger surprise to see our new CGA president crying.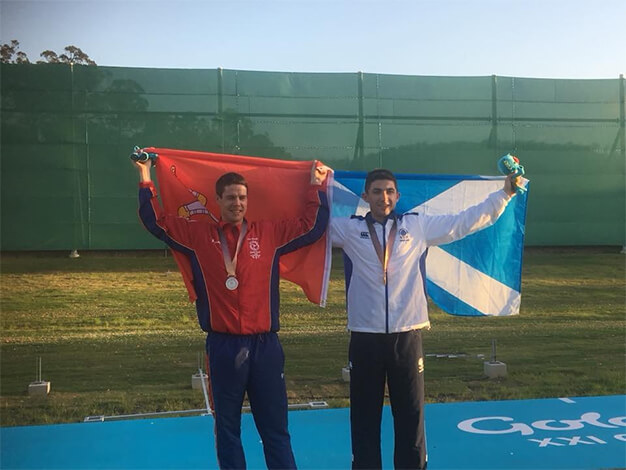 A fairly quick medal ceremony and emotional interview with the BBC was the end of a challenging but rewarding competition. We caught the next bus back and were met at the village by some of the Team who were delighted for me, a great welcome back. This was quickly followed by something to eat and then the bar with the team management. The Commonwealth village always has a bar which is a really social place for people from other teams and countries to meet and make new connections as well as reflect on performances.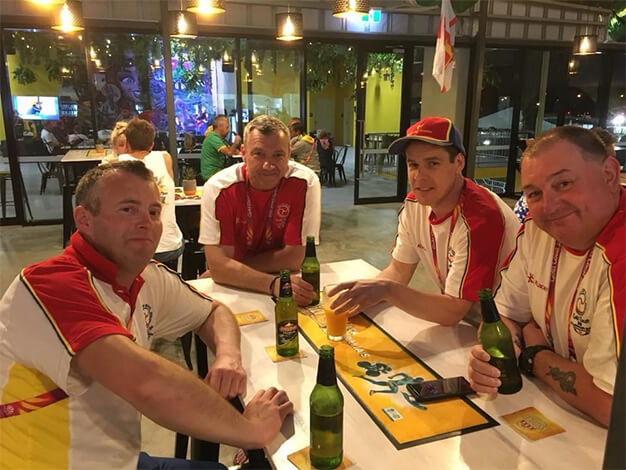 Everything went a little crazy after that with media wanting to catch up and interview me along with other shooters. I'm not sure I would have got quite so much coverage if I hadn't been as emotional but it was all good publicity for the Isle of Man. I think everyone back home certainly enjoyed seeing the Isle of Man on national TV a few times. I had a few days following competition before I left which were taken up mostly by media commitments, which I feel comes as part of the responsibility and privilege of competing for my country, where I could see the village fully and spend some time really soaking up the atmosphere.
On arrival back at Manchester airport I really wasn't looking forward to the 5hr drive back to Somerset, so to see my partner Amy holding a welcome home banner was a massive surprise!! She hadn't told me she was coming up to meet me so it was a shock but great to see her!
I have recently been back to the Island for a few days to see family and soon had lots of meetings filling my time. Before I travelled over though I had spoken to some schools about visiting and showing the children the medal, these were by far the best meetings and a great opportunity to try and inspire the next generation to work hard and follow their dreams.
The Gold Coast Commonwealth Games has been a fantastic experience and possibly my last Commonwealth Games due to my sport being removed from the 2020 programme but thank you to RL360 for all the support up to this point, it's been a great help and also comforting to have a great connection back to the Island.