Retirement and Education fees scenario planner – now available
We have launched new functionality within our illustration system for our Regular Savings Plan which allows you to model specific illustrations for those clients looking to save for their retirement or their children's future education needs.
The scenario planner is simple and intuitive to use, and can be completely customised to meet each clients' specific requirements.
Simply enter the retirement or education details and the scenario planner will calculate what your client needs to save over the chosen term.
There's lots of flexibility that allows you to play around with different scenarios, before settling on the preferred solution. Once that solution has been agreed, the details will be pulled through into a personalised Regular Savings Plan illustration and Key Information Document for your client.
This direct integration into our illustration system will save you time and make the illustration more personalised and relevant to your client's needs.
Retirement planning – How does it work?
The retirement scenario planner enables you to model either:
A target income at retirement, or
A lump sum at the target retirement date
Taking the client's current age, their target retirement age and their target income/lump sum requirements, the planner will calculate the payments required to achieve these targets over the chosen savings term.
Like the education fees planner, if you need to amend any of the details, you have the flexibility to make the changes and re-calculate the payment amount before creating the illustration.
Target retirement income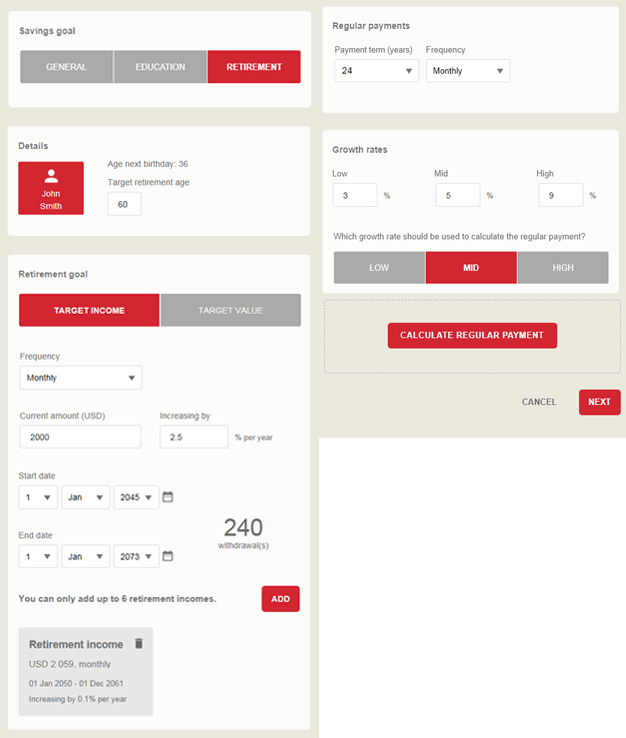 Target a lump sum value at retirement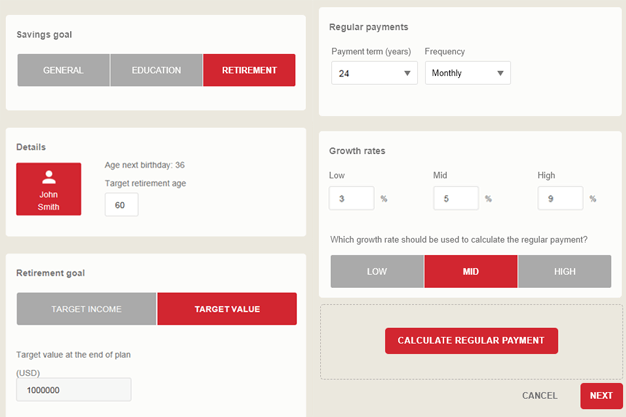 Education planning – how does it work?
You have the ability to create 6 independent sets of schools fees. Simply input the child's name, date of birth, what the assumed school fees are at today's date and enter the periods that fees are required to be paid.
If you want to apply yearly inflation you can. After all, the cost in 10 or 15 years' time will be greater than it is today.
From this information you can calculate how much your client will need to pay into their Regular Savings Plan. If you need to amend any of the details, you have the flexibility to make the changes and re-calculate the payment amount - simple.
Once you are happy with the solution, you can go ahead and create the illustration for your client.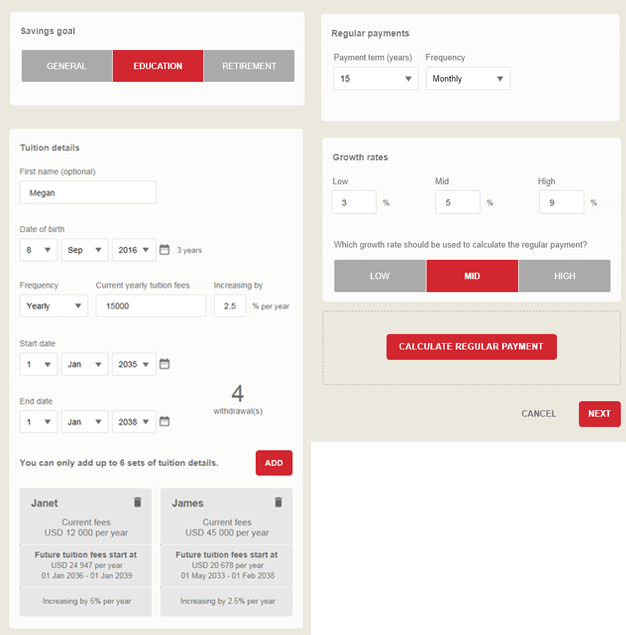 You can access the Regular Savings Plan illustration system and our new scenario planner through our Online Service Centre (OSC). Click here If you haven't yet registered for the OSC. Alternatively contact your regional sales manager for more details.