RL360 launches Athlete Sponsorship Programme
RL360 has launched a brand new scheme to support talented Isle of Man athletes.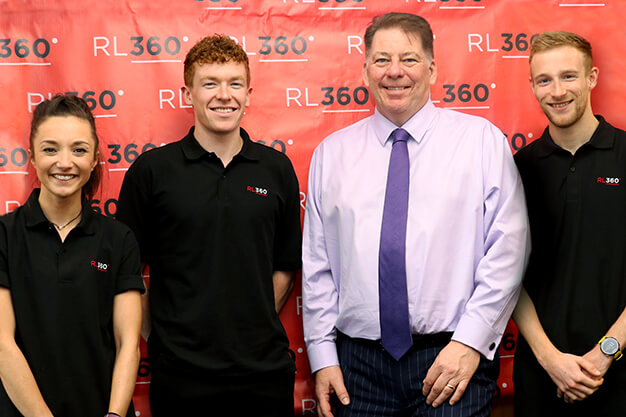 RL360 Marketing Director Simon Barwell with Erika Kelly, Matt Bostock and Ollie Lockley at the event held to launch the sponsorship programme.
The RL360 Athlete Sponsorship Programme will help three local athletes achieve their sporting ambitions on an international stage:
Erika Kelly – race walker
Ollie Lockley – distance runner
Matt Bostock – cyclist
Erika Kelly
Erika, 26, is a Manx born 20km race walker, representing Great Britain at international competitions. Having only started race walking in 2016, she rocketed to the top and was selected to represent England after just a year. Erika, who is also a professional harpist, holds 6 Manx walking records and is ranked 1st in the UK over 3,000 metres and 5km.
She has also reached number 18 in the UK All-Time lists over 5km. She's an Olympic hopeful, and hopes to compete in Tokyo and also in Paris in 2024.
Erika's achievements are all the more remarkable given she is registered visually impaired with declining sight.
Ollie Lockley
Ollie Lockley, 26, is a Manx-raised distance runner who is also aiming for the Paris Olympics in 2024.
Ollie competed in the Island Games in 2017, where he beat an Olympic athlete on his way to winning gold in the 10,000m. Since 2018 he has been competing as an elite UK distance runner and represented England at The Great Ireland 10k, Belfast International 10k and England 10k track championships – he won all three.
In 2019 he became the fastest Manx runner in history over the 10k, 10 mile and half marathon and is ranked number two in the UK for 10 miles on the road. He holds the Isle of Man record over 5k.
Both Erika and Ollie have their sights firmly set on the 2022 Commonwealth Games.
They are joined in this goal by their RL360 Athlete Sponsorship stablemate, Matt Bostock.
Matt Bostock
Matt, 22, is a Manx born British track cyclist, representing Great Britain at international competitions. He was European Team Pursuit Gold medallist in 2016/17/18 and competes in the popular Six Day Series where he has won a number of races.
Matt is also a road cyclist, currently riding for Canyon dhb p/b Bloor Homes UCI Continental Cycling Team. He had a fantastic road season last year, having won the National Circuit Series. He won 5 out of the 6 rounds, which has never been done before.
He recently took part in the Tour of Britain for the second year running where he made his mark in the sprints.
Sponsorship pedigree
RL360 will initially sponsor all three athletes for two years.
The company's Marketing Director Simon Barwell said: "We decided to create the RL360 Athlete Sponsorship Programme to further our pedigree of supporting young sportspeople on the Isle of Man.
"In recent years we have sponsored Olympic shooter Tim Kneale on his road to Rio 2016 and have been the title sponsor of the hugely successful Youth Cycling League for the past 25 years. In fact Matt Bostock is actually a product of that league.
"Erika, Ollie and Matt are all massively talented athletes who deserve all the success they are striving for in their respective fields. It's our hope that the RL360 Athlete Sponsorship Programme will help give them a significant boost along their path to achieving that success."